Blogs
Prevent Hair Loss in Women: Expert Tips & Tricks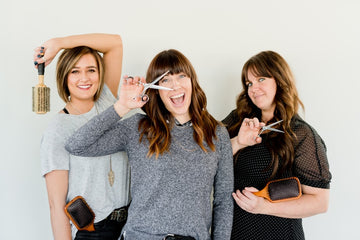 How to Prevent Hair Loss in Women
Introduction
Hair loss can be a distressing experience for women, impacting their self-esteem and overall well-being. While it's normal to lose some hair daily, excessive hair loss can indicate an underlying issue. In this article, we will explore effective steps to prevent hair loss and promote healthy, luscious locks.
Maintain a Healthy Lifestyle
A holistic approach to hair care begins with maintaining a healthy lifestyle. Ensure you are consuming a balanced diet rich in essential nutrients, such as vitamins A, C, and E, omega-3 fatty acids, and biotin. Incorporate foods like leafy greens, eggs, fish, and nuts into your diet. Stay hydrated by drinking plenty of water.
Avoid Harsh Styling Practices
Many women use styling tools, such as straighteners and curlers, to achieve their desired look. However, excessive heat and tension can damage your hair and lead to breakage. To prevent hair loss, use these tools sparingly and opt for lower heat settings. Additionally, avoid tight hairstyles that can pull on your hair, such as tight ponytails or braids.
Practice Gentle Hair Care
To prevent hair loss, be mindful of how you handle your hair. Avoid excessive brushing or combing, especially when your hair is wet, as it is more susceptible to damage. Use a wide-toothed comb or a brush with soft bristles to detangle your hair gently. When drying your hair, pat it dry with a soft towel instead of rubbing vigorously.
Protect Your Hair from Environmental Factors
Environmental factors like pollution and harmful UV rays can damage your hair and contribute to hair loss. Protect your hair by wearing a hat or using a scarf when exposed to the sun. Additionally, consider investing in hair care products that provide a protective barrier against environmental aggressors.
Manage Stress Levels
Stress is a common culprit for hair loss in women. When you experience stress, your body can enter a state of imbalance, affecting the hair growth cycle. Incorporate stress management techniques, such as exercise, meditation, or engaging in hobbies you enjoy, to reduce stress levels and promote healthy hair growth.
Use Hair Care Products with Care
Choosing the right hair care products can make a significant difference in preventing hair loss. Look for shampoos and conditioners that are sulfate-free and gentle on the hair. Avoid products containing harsh chemicals that can strip your hair of its natural oils. Additionally, consider incorporating products specifically designed to promote hair growth and scalp health into your routine.
Consult a Professional
If you are experiencing excessive hair loss or have concerns about your hair, it's essential to consult a professional. A dermatologist or trichologist can help identify any underlying causes and provide personalized recommendations to address your specific hair care needs.
Conclusion
Preventing hair loss in women requires a comprehensive approach that encompasses lifestyle changes, gentle hair care practices, and the use of appropriate hair care products. By following these preventative measures and seeking professional advice when needed, you can minimize hair loss and promote healthier, more vibrant hair.
Remember, hair loss can be influenced by various factors, and it's essential to pinpoint the root cause to address it effectively. Prioritize your hair health, choose quality hair appliances, and embrace a holistic approach to achieve and maintain beautiful, luscious locks.