Blogs
Top Products for Fine Hair Volume+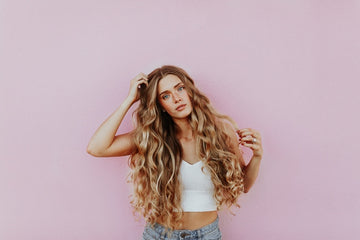 The Best Hair Care Products for Fine Hair
Fine hair can be a blessing and a curse. While it tends to be more manageable and easy to style, it can also lack volume and appear flat. To make the most of your fine hair, it's important to use the right hair care products that will add volume, enhance texture, and provide nourishment. In this article, we will explore the best hair care products specifically designed for fine hair, from shampoos and conditioners to styling products.
1. Volumizing Shampoo
When it comes to fine hair, using a volumizing shampoo is key. Look for shampoos that are lightweight and add body to your hair without weighing it down. Ingredients like rice protein and collagen can help to plump up the hair shaft and create the appearance of fuller, thicker hair. Try to avoid shampoos that contain heavy oils or silicones, as these can make your hair look greasy and flat.
2. Weightless Conditioner
After shampooing, it's important to use a lightweight conditioner that won't leave any residue or weigh down your fine hair. Opt for conditioners that are specifically formulated for fine hair and provide hydration without adding extra weight. Look for ingredients like panthenol and glycerin, which can help to moisturize and add softness to your hair without flattening it.
3. Root-Lifting Mousse
For added volume and lift at the roots, consider using a root-lifting mousse. This type of product is applied to the roots of damp hair before blow-drying and helps to add body and texture. Look for mousses that are lightweight and provide long-lasting hold without leaving any sticky residue or weighing down your hair. Apply the mousse evenly through your roots and then blow-dry your hair upside down for maximum volume.
4. Dry Shampoo
Dry shampoo is a lifesaver for fine-haired individuals. It's a quick and easy way to refresh your hair between washes and add volume at the same time. Look for dry shampoos that are specifically designed for fine hair and provide a lightweight, invisible finish. These products can absorb excess oil at the roots, giving your hair a fresh, voluminous look. Be sure to massage the dry shampoo into your scalp to distribute it evenly and brush it out thoroughly to avoid any white residue.
5. Texturizing Spray
To enhance the texture and create a fuller appearance, consider using a texturizing spray. These sprays add grip and hold to your fine hair, making it easier to create volume and add definition to your hairstyles. Look for sprays that are lightweight, non-greasy, and provide a natural, flexible hold. Apply the spray to dry or damp hair and scrunch it in with your fingers to create texture and lift.
Conclusion
With the right hair care products, you can transform your fine hair into a voluminous, head-turning hairstyle. Experiment with different shampoos, conditioners, and styling products to find the ones that work best for you. Remember to choose lightweight formulas that add body without weighing down your hair. By incorporating these products into your hair care routine, you'll embrace the beauty of your fine hair and achieve stunning styles effortlessly.